In 2009 I graduated with a 1st Class Honours in MEng Computer Interactive Systems from the Department of Electrical, Electronic & Computer Engineering at the University of Birmingham.
My degree covered a wide range of topics from electronic & software engineering to cognitive psychology and project management.
Projects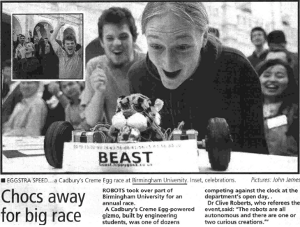 In my second year I lead a team of students to build an autonomous line-following robot to compete in an egg race at the department open day. Our team's robot was built from a PIC microchip, stepper motors and infra-red sensors. The project was delivered on time, using only 40% of the budget and the robot came second place in the race and was featured in the Birmingham Mail newspaper.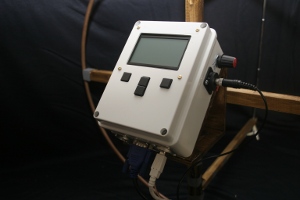 In my third year I lead a multi-disciplinary, international group of ten students to design and build a "radio orienteering" system to locate several low power radio transmitters within a 2km radius with a budget of £750. The system we built included a custom built antenna, radio receiver and embedded Linux computer with a monochrome LCD screen, audio, buttons, memory card reader, GPS receiver and electronic compass running a custom-compiled Linux kernel and an interactive Python application.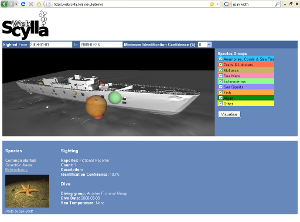 My final year project was an interactive 3D web application to visualise the colonisation of an artificial reef. I wrote the application using the Python programming language and Django web framework and used the emerging X3D standard for 3D graphics on the web. I worked in conjunction with the National Marine Aquarium and Marine Biological Association and presented a paper on my project at the 2009 Web3D Symposium in Darmstadt, Germany. My project won me the A.P. Jarvis prize for outstanding achievement in a final year project.